Hydrogen, the most abundant element in the universe, is an energy carrier that can be produced from a variety of sources - such as renewable biomass and intermittent solar, wind and hydro energies. This versatility enables hydrogen the potential to become a central integrating element, alongside electricity, in the future decentralized energy systems.
On the technology front, fuel cells are devices that generate electricity from a chemical reaction between hydrogen and oxygen, with only by-product water. Clean and efficient, hydrogen fuel cell vehicles (FCVs) hold great promise for sustainable mobility and meeting the Paris Agreement.
Jointly organized by the IHFCA and China SAE, the International Hydrogen Fuel Cell Vehicle Congress (FCVC) is the premier international summit for the hydrogen fuel cell (HFC) and auto industries. Since its launch in 2016, this annual Congress has seen growing influence and brought together global business leaders and technology developers at the vanguard of HFC innovation and sustainable transportation.
The 5th International Hydrogen Fuel Cell Vehicle Congress (FCVC 2020) took place on September 14-16 in Shanghai, China. The congress brought together a total of more than 1,000 participants from China and abroad. During the onsite exhibition, 127 exhibitors brought their new technologies and products, and more than 5,500 professionals visitors were attracted in the event.
The 6th FCVC will be held during June 8-10 in Shanghai, China.
Basic information of FCVC 2021
Time: June 8-10, 2021
Location: Shanghai Automobile Exhibition Center (SAEC)
Congress Theme:
Embracing emerging opportunities under the new fuel cell vehicle demonstration framework. Strengthening entire fuel cell supply chain.
Orientation:
Comprehensiveness, globalization, authority, professional
Main issues:
Cultivate core competitiveness of industries through high-level demonstration and application
Hydrogen energy and fuel cell technology innovation and industry chain cultivation
Development of hydrogen energy with low cost and high quality
Multilateral international cooperation and cross-regional collaboration
Main activities of FCVC 2021
Academic Conference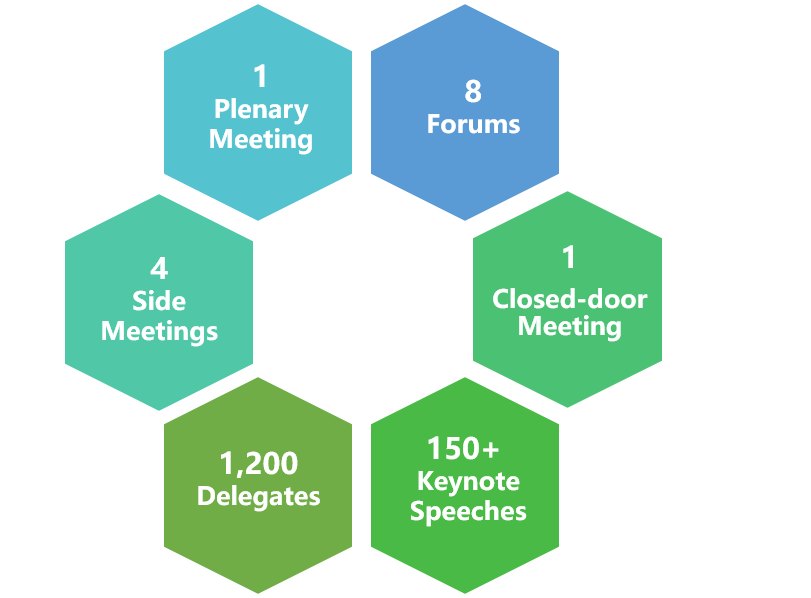 Exhibition
Gathering of cutting-edge technologies and advanced products of the whole fuel cell vehicle industry chain

5 Categories of Exhibits: hydrogen fuel cell vehicles, stacks and system integration, core components and materials, hydrogen production, storage and hydrogenation and related equipment, testing equipment & systems
FCVC 2021 Pavilion: FCVs Pavilion A&B, Testing Pavilion, Start-up Park, Research exhibition from university, Overseas Pavilion, etc.
Concurrent Events: technical speech, new product/new technology release, signing ceremony, business matching-making, project roadshow, media event, etc.
Visitor Scale: 6,500+visitors, 20,000+ total visits, 15+ visiting groups
Concurrent Events
The second "hydrogen energy and fuel cell technology innovation award "selection
Test Drive and Ride: Mainstream FCV companies including Toyota, Hyundai, FAW, SAIC, etc. will be invited
VIP Dinner: 150 guests for limited invitation
Technical Tour: Visit of hydrogen fuel cell enterprise and hydrogenation station
Hydrogen Fuel Cell Vehicle Experience : FAW Passenger Cars, SAIC MPV, Futian Bus, etc
Date

Program

Jun.8

DAY1

Forum A:FCVs – system matching and customization strategies

Forum B:Optimal supply path of hydrogen energy industry chain

Forum C:Safety technology of hydrogen energy utilization and construction of standard system

Forum D:Hydrogenation infrastructure construction

Slide Event 1: Symposium on the application of fuel cell technology in medium and heavy duty vehicles

Slide Event 2: Symposium on the technology of hydrogen production by renewable energy

Slide Event 3: Hydrogen Fuel Cell Technology Industry Summit

High-Level Closed-door Meeting (Private Meeting)

Jun.9

DAY2

Plenary Meeting (Opening Remark & Keynote Speeches & Panel Discussion)

VIP Dinner
Date

Program

Jun.10

DAY3

Forum E:Fuel cell stack technology

Forum F:Air compressor for fuel-cell and hydrogen circulation pump technology

Forum G:Fuel cell membrane electrode and core materials

Forum H:Market & Capital Investment

Slide Event 4:Symposium on applications of stationary fuel cell technology

Concurrent Activity:Technology Exhibition

Concurrent Activity:Ride & Drive

Jun.8-10

Exhibition(Technical speech, New product/new technology release, Signing ceremony, Business matching-making, Media activity, Project roadshow, etc.)