China SAE and FISITA are delighted to confirm that the third annual FISITA Intelligent Safety Conference China will take place 16 July 2021 in Changchun, China, with physical or online participation available to registered participants.
Following highly successful events in 2019 and 2020, FISITA Intelligent Safety Conference 2021 will run as a stand-alone conference for the first time. The FISITA Intelligent Safety Conference China will again see an international speaker line up considering some of the most important topics within the safety of future mobility arena, including SOTIF, Cybersecurity, and Impacts of Human Factors on Safety.
Date & Venue
16 July, 2021
Changchun, China
Conference Chairs

Hosted by
China SAE
FISITA
Co-organized by
College of Automotive Engineering, Jilin University
Automotive Innovation
State Key Laboratory of Automotive Simulation and Control, Jilin University
Supported by
Tsinghua University Intelligent Vehicle Design and Safety Research Institute
CAICV SOTIF Working Group
Preliminary Agenda Structure of ISC 2021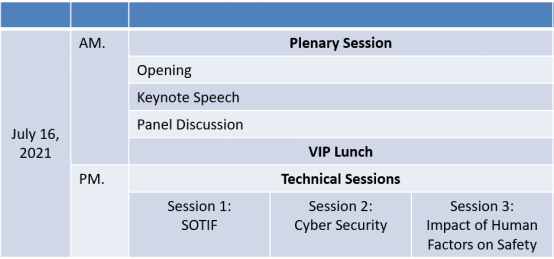 ISC 2020 Speakers

Registration
Keynote speakers, along with the full agenda, will be announced soon and registration for the 2021 event will open at the end of April.
Website
www.fisita.com/isc
Contacts
Dong Li
lidong@sae-china.org
Selina Yang
selina.yang@sae-china.org
Nadine Lloyd